B-24J - 44-41251 14 AF, 308 BG, 375 SQ, CBI

The "Forgotten" Fourteenth
May WE Never Forget....
The original drawing, "American Beauty", is a gift for my Father-in-Law, SSgt Michael J. Fevola. It is intended to honor him and his crewmates who flew over 30 combat missions (252:10 Total Combat Hours) for the 14 AF, 308 BG, 375 SQ, in the CBI Theatre from October 17, 1944 to July 13, 1945. Many of their missions were in "American Beauty", until she was lost on the ground during a Japanese raid on a forward airstrip where they needed to make an emergency landing returning from a mission.

A print is now available as a limited edition signed and numbered (308) fine art print CO-SIGNED by S/Sgt. Michael J. Fevola.

Please inquire about a VERY LIMITED CREW MEMBER Signed A/P edition of only 30 prints, CO-SIGNED by both S/Sgt. Michael J. Fevola AND Pilot, 1st. Lt. Raymond H. Loughridge. Contact Us

Soon to be a full length book "THEY FLEW WITH TIGERS!" Coming soon!

American Beauty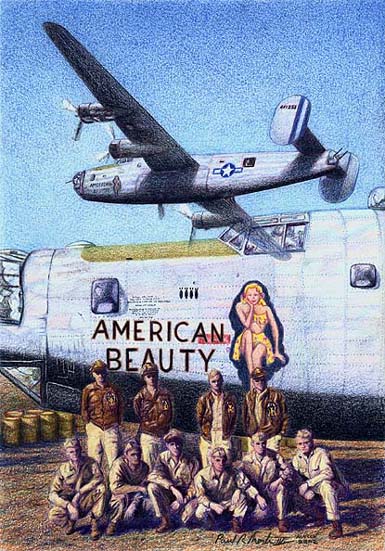 "AMERICAN BEAUTY"
B-24J 44-41251 14 AF, 308 BG, 375 SQ, CBI
Image size 8" x 11"
Edition Size: S/N Regular Edition of 308 CO-SIGNED by S/Sgt. Michael J. Fevola.
Price: Regular Edition of 308: $80.00 each,Unframed
PLEASE ORDER PRINT VARIATIONS FROM THE DROP DOWN LIST BELOW
Price: S/N Regular edition of 308: $80.00 each Unframed, plus $5.00 flat Shipping
We also have custom framed prints with 3 enameled metal pins of the 14th AF, 375th BS and CBI patch logos inlaid within the matting. Available upon request $40.00 extra. Please Contact Us for more information or order from the drop down list below!
Please inquire about availability of VERY limited edition of A/P's (edition size of ONLY 30) CO-SIGNED by both S/Sgt. Michael J. Fevola and Pilot, 1st. Lt. Raymond H. Loughridge. $120.00 Each (click on thumbnail picture at right) Contact Us for more information or order from the drop down list below!
---
Loughridge and Fevola sign the prints:(Click on picture above)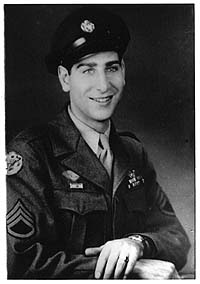 AMERICAN BEAUTY: A brief History
"American Beauty " is intended to pay tribute to my Father-in-law, SSGT Michael J. Fevola, his crew and ALL the members of the "Forgotten Fourteenth". May WE never forget their sacrifices made for FREEDOM!

The accompanying historical essay is a work in progress, as I attempt to work my way through hours of audio taped oral histories and recollections made during interviews with my Father-in-law and stories told by the surviving crew members.

Soon to be a full length book "THEY FLEW WITH TIGERS!" Coming Fall of 2011!

Errors of geographic names and locations as well as certain timeline chronology are due to the cobwebs of time clouding the memories of the participants. Where possible I have attempted to confirm the first person accounts against the known facts and official records. Michael Fevola's EXACT words are in black and ALWAYS within Quotation Marks. My commentary, where practical, is often in blue.

Most of the accompanying photographs are from Michael Fevola's personal collection unless otherwise noted.

Paul R. Martin III

(above) Ssgt. Michael J. Fevola in 1944

AMERICAN BEAUTY: Part I, In Training:


Michael Fevola and Ed Mosier standing in front of an AT-5 Recon Plane and in an BT-13 Trainer, both pictures probably taken in Texas.

"In June 1941 I was hired by Seversky Aircraft corporation. I had been working a short period of time and that December there were three of us riding in a car on 110 (route 110 in Farmingdale, NY). We were driving down toward Seversky aircraft in Farmingdale. There were three of us, Neil and one other guy, I forgot his name. Neil was my cousin and we palled out together. We heard on the radio that they had attacked Pearl harbor. We were really astounded and kept listening to the news and driving along in Neil's car on 110. It was late morning I think, I'm not sure of the time, maybe early afternoon. We drove down to the field and went to the flying field and they were just taking off a new experimental model, the P-47 (XP-47B). One of the first P-47 models that they were testing out, which would play a big part in the war."

Mike Fevola worked in defense at Seversky/Republic and also was the last son of his parents so he was exempt. "I was the last son. I had 2 brothers in the service and another who had passed away. I would not have had to go but I volunteered. I thought I would like to become part of the service. I felt that I had done my duty there as an aircraft worker, a defense worker and I felt that I should participate in the war to earn my right to be allowed to live here. It was very patriotic I would say because I didn't have to go but yet I went. In fact my boss came up to me and said " I'll give you a 3 month deferment if you want" I said 'No, I want to go. And so I went. They gave me a party at work. Just a bunch of guys. They had already given me the party and everything so I'm not going to turn it down, I'm going in. I passed and I'm going. I felt it was my duty. My father had been in W.W.I and I figured I'd carry on the tradition but my 2 brothers had beat me to it. My brother Pat, he was a Staff Sgt. and Uncle Tony was a Bowsons mate in the Navy. Pat was a supply Sgt. in the Air Corps."




Ssgt. Michael J. Fevola, Aerial Gunner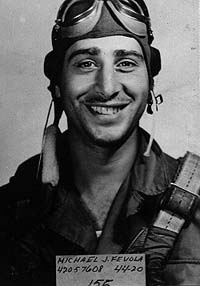 "I was very , very Gung Ho. We wanted to right away go and become part of the armed forces. Naturally we berated the intent of the Japanese people. We thought them pretty low because of the way that they went about the sneak attack on Pearl Harbor. That was 1941, I didn't join until '43. It was a cold weekday in December, I was reporting to Mitchel Field, to take the exam for air cadet, air force, I wanted to fly. That previous night I had worked the night shift at Republic Aircraft, we were manufacturing the P-47. I was tired but I took the examination and I passed. That was in December, the early part of December (1943). My next stop was to report to Whitehall Street for my medical exam. I went down to pass my physical. I took the physical and everything checked out OK. I was very lucky, I was all alone, I was one of only a few people there so there was no waiting, no standing around. I just went through and I was in and out in less than an hour. Then I received notice that they would let me stay home till the holidays were over, Christmas and New Years and then right after that I would report for active duty."

"By the middle of January I was to report at Grand Central Station in NYC. We had a Sgt. that was going to take the group to Fort Dix for our induction. We were standing there at the station. The Sgt. said "Any of you guys have High School?" I raised my hand.
"Any of you guys College?, even one year?, any college at all?" So a few of the guys raised their hand, so the Sgt. said, "All right! All of you dumb High School guys, now watch how these college guys police the area!" He said to them, "Destroy any cigarette butts you find on the floor." And that's how I went into the service."

"Basic Training wasn't much. I went from school to school, to the next to the next to the next. I did almost a year of schooling before we even started flying together, physical training, survival school......"






"After basic I took the exams for a pilot but I washed out because they only took the top 10 of the class, of all the classes. There was of course disappointment but I was still in the Air Corps. I had to take tests for other available placement. After completion of all the tests I was told I'd be going to flight training school for gunnery. I asked them why I couldn't go to school for ground crew mechanics or radio school. They said there were no openings and I'd be better off where I was. I was assigned to gunnery school in Harlingen Texas. It was quite a train ride from Biloxi Mississippi to Harlingen. On the way out our one stop was San Antonio, an air force base, picked up some clothing etc. and then we were shipped down to Harlingen to begin our training in gunnery."

"We were assigned crew members and I met my cohorts, my buddies who would be with me now for better than a year. We would live, eat and sleep together as a group. There were 4 officers and 6 enlisted men. I was picked as 2nd flight engineer on the B-24 and then trained as a flight engineer and top turret gunner."

"In one of our gunnery classes we were flying a B-24 as a crew. I was in the waist gun position with Smolenski, Rockwood and Trisch. I had taken my shots from the side, finished and swung the gun back into the safety position. Then Rocky took over. He swung the gun out of the right waist window and before he could throw the safety pin to keep the gun from coming back into the aircraft he froze on the gun and he starts shooting. If he kept doing that he would shoot off the whole tail and inside of the aircraft. I quickly pushed the gun out, threw the safety latch in and then he let go of the gun. But for a minute there it looked like he was going to shoot up the whole back of the airplane."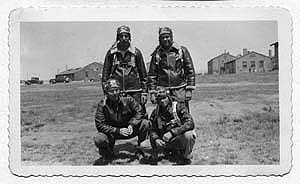 The gunnery crew during training in Harlingen Texas. Michael Fevola (L) and Arthur (Rocky) Rockwood (R) standing, Harold (Red) Mulley (L) and John Trisch (R) kneeling.
"I was in my position, the top turret gun, every one took a turn in their own position to fire their guns. The nose gunner shot his, the tail gunner shot his, the ball turret shot his and the 2 waist gunners shot theirs and now it was my turn. But instead of the pilot turning left or right and letting me shoot, he said" 'Shoot your guns forward, I'm going to go up a little bit and then come down into a slight, shallow dive. You can see what your shooting at.' "As I fired the guns, the whole radio equipment inside the cabin started to vibrate. We were afraid we would break something loose and then we would lose our radio contact, so that ended that."


After about 6 months of training together in the States, that included flight training, survival training and gunnery school, the crew picked up their aircraft at Hamilton Field in California. They were given B-24 J serial # 205-C- 44-41251.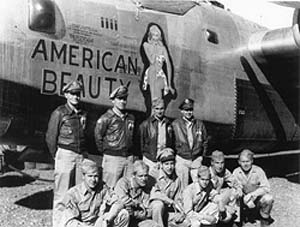 Several names were nominated by the crew for the aircraft and a vote was taken with "American Beauty" winning out unanimously. Recalled SSgt. Fevola, "I think Ray (the pilot) came up with that name, there were several others, I didn't come up with one myself but I liked "American Beauty". It was a name you could be proud of and wouldn't be ashamed to tell anybody about. The symbolism was there, Americanism. It became unanimous, after we discussed it a few times and then we decided 'American Beauty' was a good name. It was patriotic and symbolized what we were fighting for."

(above)The "American Beauty" Crew photographed in China in front of their plane. Michael Fevola is in the bottom row, third from left wearing his dress cap. This is one of the photos I used as a reference for the drawing. The caption below pertains to both crew photos of "American Beauty" as well as the print. Note the 375th Bomb Squadron Logo painted on the left breast side of the officers A-2 Leather Flight Jackets.

"American Beauty" Crew: back row (L-R): Pilot, 1st. Lt. Ray Loughridge, Co-pilot, 2nd. Lt. Robert C. Ohlsen, Navigator, 2nd. Lt. Chester Skotak, Bombardier, 2nd. Lt. Frank J. Riddle.

Front row (L-R): Ball turret gunner, Ssgt. Arthur (Rocky) R. Rockwood, First flight engineer and waist gunner, Tsgt. Everett (Ed) V. Mosier, Second flight engineer and top turrett gunner, Ssgt. Michael J. Fevola, Tail Gunner, Ssgt John Trisch,Jr., Nose gunner, Ssgt. Albert P. Smolenski, Radio operator and waist gunner, Ssgt. Harold (Red) Mulley.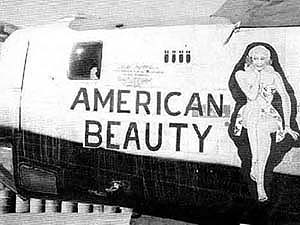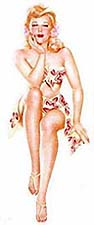 The "pinup" girl was copied from an Alberto Vargas Esquire girl titled "Beached For The Duration", featured in the May 1944 issue of Esquire Magazine. Alberto Vargas (1896-1982) was a popular pin up artist of the 30's and 40's who created what became known as "Varga Girls" for Esquire Magazine, the popular men's magazine of the WWII period. Copied "Varga Girls" adorned many aircraft while the centerfolds themselves warmed thousands of footlockers and Quonset huts throughout the American Theaters of Operation.


1st LT Raymond H. Loughridge, Pilot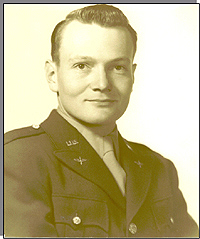 Loughridge hailed from Beaver Falls, Pennsylvania. He was an outstanding command pilot. My thanks to Mr. Loughridge, his family, and all the men and their families who provided their photos for inclusion in the book and on this website.

1st LT. Chester Skotak, Navigator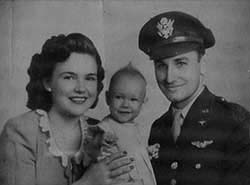 Aside from the pleasure of talking with my Father-in-law about his service in WWII, one of the most wonderful things about doing a painting like this was the contact and conversations I had with other crew members of "American Beauty" during my research. Another unexpected and wonderful happening was also being contacted by the children of crew members.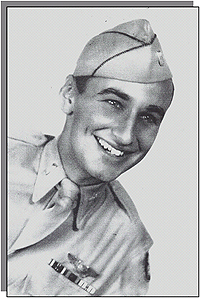 Chester Skotak, Jr., son of Navigator,1st Lt. Chester Skotak, has graciously provided me with a picture of his Father. Taken in 1944, it is an early family portrait of Lt. Skotak, his wife Dorothy and 1 year old Ruth Anne. After "Saving The World" Chester and Dorothy would raise 6 children to adulthood in Post-War America. Dorothy is still alive but Chester passed away in 1981. Ssgt. Fevola remembered Chester fondly.
"He was very quiet but a real nice guy, he was always smiling and he never had a bad word or a cross thing to say about anybody. Such a nice guy!"
It is an honor for me to include this picture of Lt. Skotak, here on this web page.

1st LT Frank J. Riddle, Bombardier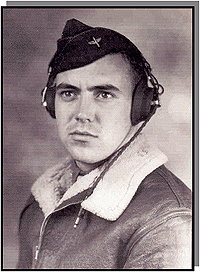 Riddle was from Spokane, Washington.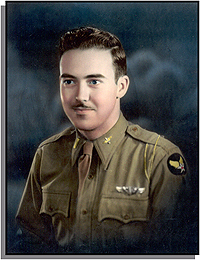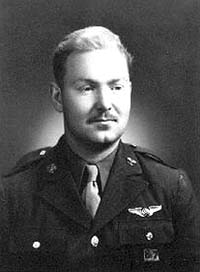 T/Sgt. Harold "Red" Mulley, Radio Operator: Waist Gunner
T/Sgt. Harold "Red" Mulley was the radio operator and waist gunner on "American Beauty". He currently resides in Ohio. This photo was taken in 1944 and was graciously provided by his children. I am proud to be able to honor Sgt. Mulley's contribution to America's victory over oppression in WWII, by presenting his photo on my web page. I know his children are proud!

S/SGT Albert P. Smolensky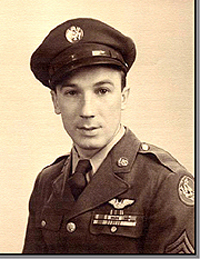 Smolensky was the nose gunner on the crew and grew up outside of Pittsburgh, Pa.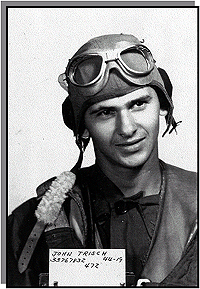 S/SGT John Trisch Jr.
18 yeard old John Trisch from Lloydell, PA was the "baby" of the outfit and operated the tail gun turret.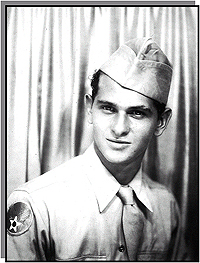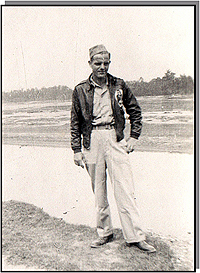 T/SGT Everret V. Mosier
From Detroit Michigan, Mosier was the first flight engineer and waist gunner.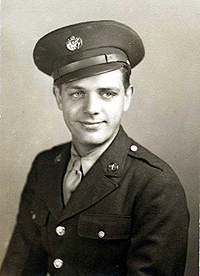 LEFT (L-R) Back row: Arthur Rockwood, Pilot Ray Loughridge, Red Mulley, and Mike Fevola. Front row: Al Smolenski and John Trisch, probably at Hamilton Field, California.

RIGHT (L-R) Ed Fisher, Art Rockwood , Michael Fevola , S. R Genca, and Al Smolensky, on leave in California.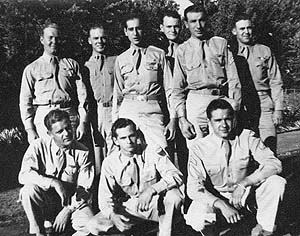 The crew of "American Beauty" on leave in Walla Walla Washington (State)on September 4, 1944. This photo was taken at a farewell party at Frank Riddle's family's home in Walla Walla Washington during an extended leave just before flying out to the CBI Theatre. (Back row L-R,) Red Mulley, Robert Ohlsen, Michael Fevola, Ray Loughridge, Al Smolenski, Frank Riddle. (Front row L-R,) Ed Mosier, John Trisch and Arthur Rockwood.
"American Beauty" was then flown from Hamilton Field, CA to Flaggstaff AZ, where they spent the night. The next day they flew to Huntington, WV, spent the night again and then continued the next day to Schenectedy, NY. Knowing it would be their last time in the States until "who knew when" they asked for a pass and went into town for the night. "We had a good time, a lot of fun".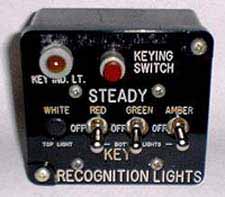 "Flying across the vast Atlantic Ocean was nerve wracking before we landed in the Azores", Mike Fevola recalled almost 60 years later, "We had forgotten to put the IFF lights on (Identification, Friend or Foe). We flew over a convoy and we were lucky they didn't shoot up at us and knock us down. If the IFF isn't on they can't identify us as a friendly aircraft, so we were lucky."



An IFF recognition light control box from a B-24.
Photo by Bob Spencer




Assigned to the 14th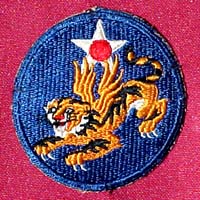 The next day they flew to Vander Bay, Newfoundland. The had to stay a few days there waiting for the weather to clear before heading out over the Atlantic. They got into the air and the pilot(Ray) opened the sealed envelope with their orders. He told them they were going to China to join the 14th Air Force. "Everyone was surprised", recalled Ssgt. Fevola, "We thought we were going to Europe, the 15th AF or the 8th. But it turned out we were assigned to the 14th Air Force, we were going to China!" The 14th Air Force was the U S Army Air Corps successor to the famous AVG "Flying Tigers". They were to become a part of the legendary "Flying Tigers".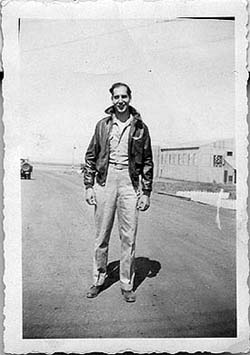 "When we landed in the Azores, the airstrip was constructed of metal mats on the ground. We landed and it made a hell of a lot of noise. We saw British Mosquitoes on the field and it was an impressive looking aircraft. The next day we got out, we were on our way to Africa, where we landed in French Morocco." "We were all friendly with the officers, we never saluted or anything." said Ssgt. Mike Fevola. Pilot, 1st Lt. Ray Loughridge remembered "Whenever we landed we would find out which club, the officer's or enlisted men's, had the best swimming pool and that's what we'd all become."

Saudi Arabia, Alexandria Egypt and New Delhi India, were the next stops before flying over the "Hump" and finally arriving in China in October 1944 where they were based out of Kunming.

Fevola on the tarmac, probably Hamilton Field.






Members of the crew pose in front of the Sphinx and Pyramids in Egypt on their way to China.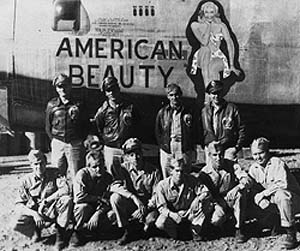 Another shot of the "American Beauty" crew in front of their aircraft in China. This shot was also used as reference for the drawing. Note again the 375th BS Logo on the officers jackets, they are even more clear in this photo.
"American Beauty" was manufactured at the Consolidated San Diego plant in August of 1944 and fitted with the Emerson nose and tail turrets. Research and interviews with the pilot and surviving crew members, advice from noted experts in the field, along with close scrutiny of photos of the aircraft and other 375th planes, assisted me in the accurate rendering of the entire aircraft. This included the accurate location of the tail and fuselage markings. The fuselage was natural metal finish (NMF) with flat black undersides and flat black under the wings, engine cowlings and horizontal stabilizer as well. There was a flat olive green anti-glare shield in front of the cockpit. The 375th tail insignia was vertical blue and white stripes on the outside of the vertical rudders.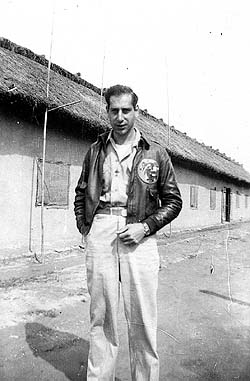 AMERICAN BEAUTY: Part II
Camp Life In China and Combat Missions: "CLICK" Here!

Mike fevola in an A-2 Flight Jacket with the 374 Squadron insignia, in front of barracks in Kunming.







Bibliography and Sources


Dedicated with special thanks to the crew of "American Beauty"

Special Thanks to: Doug Barbieri: Wally Foreman: Daniel Stockton: Tony Strothman: Glenn Ochs

Copyright 2002: Paul R. Martin III

Bibliography and sources:

Rust, Ken C. and Muth, Stephen, Fourteenth Air Force Story, Sunshine House, Terre Haute, IN, 1990

Freeman, Roger A., The Consolidated B-24J Liberator. Profile Publications # 19, Surrey, England, 1965

Forman, Wallace R., B-24 Nose Art Directory. Specialty Press Publishers, Phalanx Publishing, North branch, MN. 1996

Glines, Carroll V., Chennault's Forgotten Warriors: The Saga Of The 308th Bomb Group In China. Schiffer Military/Aviation History Publishing, Atglen, PA, 1995

Feuer, A. B., General Chennault's secret Weapon: the B-24 in China. Praeger Publishers, Westport, CT, 1992

Mingos, Howard., The Aircraft Year Book for 1945. Lancair Publishers, Inc., New York, NY, 1945

Andrews, Phillip., Air News Yearbook, Vol. 2. Duell, Sloan and Pearce, Inc., New York, NY, 1944

Cornelius, Wanda and Short, Thayne, Ding Hao: America's Air War in China, 1937-1945. Pelican Publishing Co. Gretna, LA, 1980

Terry, Thurzal Q., Strangers In Their Land: CBI Bombardier, 1939-1945. Sunflower University Press. Manhattan, KS, 1992

Henderson, William A., From China, Burma, India to the Kwai. Texian Press, Waco, TX, 1991.






B-24 BestWeb


A great website devoted to B-24's.

NEW!: A Tribute to POCO MOCO B-24J, 44-49451 14th AF, 308th BG, 375th BS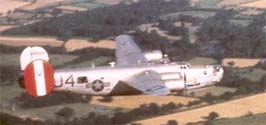 458th Bomb Group (H)
A beautiful new site created by Darin Scorza to honor his father, Navigator Samuel D. Scorza and this B-24 8th Air Force Bomb Group. Wonderful unpublished photos and recollections of this highly decorated group.





1st. Lt. Charles E. Hacking's CBI Page
Ruth Ann Hacking honors her grandfather, 1st. Lt. Charles E. Hacking who served in the CBI.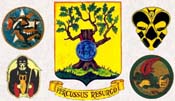 308th Bomb Group, 14th AF, CBI
A wonderful website dedicated to the 308th Bomb Group.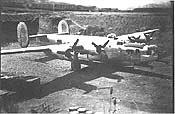 Miss Mandy
Here is a great site dedicated to another 14th AF, 308th BG Aircraft, "Miss Mandy". Created by Bob Donnan to honor his father, 1st Lt. David Donnan, Navigator, this site has some wonderful photos, stories and memoribilia from this 374th Squadron B-24J. May we never forget.




Heavy Bombers


A real nice website devoted to all the Heavy Bombers of WWII: B-24, B-17 and B-29



AMERICAN BEAUTY: Part II
Camp Life In China and Combat Missions: "CLICK" Here!






View Cart / Check Out| poco moco |

---
| American Beauty | AmericanBeauty2 | So Gallantly Streaming | silver wings |
---
| Gettysburg Series | Great American Portrait Series | WWII Series | Revolutionary War Series | Civil War Series | West Point Series | Banners Of Glory Series |
---
| Return Home | Limited Edition Prints | About us: Bio/Exhibits | 9-11 Fund Raiser | What's New | Contact Us | Events Schedule | Friends- Preservation Links | Mini Prints, Notecards, Posters | book covers |