Meet Mr. Martin this Winter at the following venues:


February 5th: 6pm: Opening Reception for The Fairfield County Community of the GE Sponsored exhibit and PBS special:Freedom: A History of US.
Special Guest Speaker: Paul R. Martin III, Historian, will discuss Abraham Lincoln and Frederick Douglass, Their lives and their words as inspiration. 7:30 PM

The United States was born and raised on freedom. Many have fought and even
died so we may enjoy this privilege. GE is proud to sponsor a 16-part
landmark PBS television series Freedom: A History of US, which brings to
life stories from American history spanning from the Revolutionary War to
the present. The series is based on Joy Hakim's book, History of US. In
conjunction with the television series, a traveling exhibit will be
highlighted in 20 cities across the United States.

This exhibit, displaying documents and old photos, and letters from people
who traveled the underground railroad and who were instrumental in securing
various freedoms in the U.S. will be displayed at the University of
Connecticut Stamford campus beginning February 5th until February 13th. The
collection will include personal letters, documents, handwritten notes of
speeches, and letters by leading figures in American History. In addition
to the Freedom collection, there will be special performances and local
historic artifacts. The Stamford Historical Society and the Civil War
Roundtable of Fairfield County and the GE African American Forum are
co-presenting these events.

This series is more than just a TV program, it affords a forum that provides
a bigger context to examine and study this country's ongoing journey to
uphold the ideals of freedom. Several local organizations have joined
forces to offer our school children and the general public different ways to
experience and learn about our history. Most of these events are free and
open to the public.

February 9th: A History of U.S. Family Day 1pm to 5pm
Special performances by the Civil War
Roundtable and the Stamford Historical Society along with paintings and
artifacts

The exhibit will be open for public viewing February 6th through February
13th, Monday through Thursday 9am to 7pm, Friday 9am to 5pm, Saturday 9am to
Noon, Sunday 1pm to 5pm. Contact Kelli Wells at 203-357-4291 for more
information.

Contact Us for More Information:




Lectures and Exhibits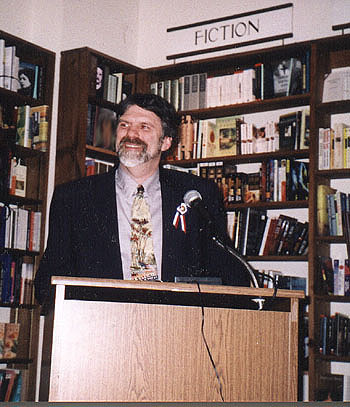 Mr. Martin is available to present lectures and exhibits to your Historical Society, Round Table or any other pertinent group.

Below is a listing of Mr. Martin's upcoming Exhibits and Lectures and a synopsis of his lecture content. If you have any questions or would like to book Mr. Martin for a presentation, please contact us at: SILENT SENTINEL STUDIO via phone, mail or E-mail.

SILENT SENTINEL STUDIO
PO Box 551
Yorktown Heights, NY 10598
914-245-8903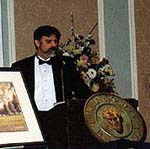 Lincoln Society in Peekskill
Mr. Martin was the keynote speaker at the
Lincoln Society in Peekskill's 97th Annual Dinner Meeting on February 10, 2001.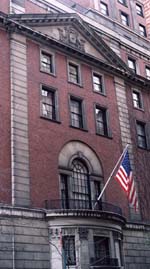 "Men of Duty, Fields of Honor"
RECENT EXHIBITION:
February 4 Through March 1, 2002

"Men of Duty, Fields of Honor"
A Tribute to American Heroes:

Color Pencil Portraits and Landscapes

The Union League Club
38 East 37th Street at Park Ave., NY, NY 10016

February 4 - March 1, 2002

Business Attire Required
A major one-man exhibit of his color pencil Historical Portraits and Landscapes was just on view at West Point at the United States Military Academy's Class of 1929 Art Gallery in Eisenhower Hall from August 20 through November 30, 2001. The exhibit titled, "Men of Duty, Fields of Honor : From West Point to Gettysburg" , coincided with the Academy's Bicentennial Celebration. The exhibit celebrated the 200th Anniversary of The United States Military Academy, by commemorating the graduates who made significant contributions to the military history of our Nation.

Another one-man exhibit of his works was recently held at the Gettysburg Cyclorama Visitors Center Gallery. The exhibit titled, "The Vision Place of Souls" , ran from June - November , 2000.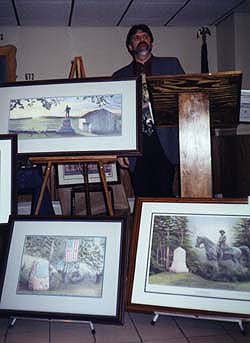 UPCOMING LECTURES, PRESENTATIONS and EXHIBITS:

SEE ABOVE LISTING

Contact Us for More Information:





Lecture Synopsis'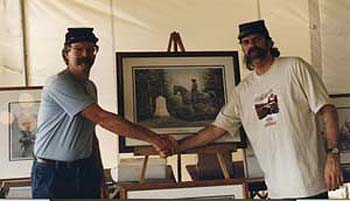 Tom Grove (left) meets Paul R. Martin III (right) at the Cowles History Tent at the Gettysburg 134th Re-enactment in July of 1997


"Gettysburg: The Vision Place of Souls"

The Gettysburg Battlefield in Art, Literature and the American Consciousness.

A Lecture and artistic presentation by Paul R. Martin III, artist.

Civil War artist Paul R. Martin III will present an art exhibit, lecture and discussion based upon his Gettysburg series of Civil War Battlefield landscapes. Mr. Martin will discuss the inspiration for his work, and the specific historical context of each drawing, interspersed with classic American literature and poetry, first person accounts, and personal battlefield poetry. William Faulkner, Carl Sandburg, Walt Whitman and Stephen Vincent Benet are just some of the authors whose work will be cited.





" 'From the Hands of His Creator':

Abraham Lincoln and Frederick Douglass"
Their lives and their words as inspiration.

A Lecture and artistic presentation by Paul R. Martin III, Artist

Civil War and historical artist Paul R. Martin III will present a lecture and discussion touching upon the relationship between Lincoln and Douglass. Cited will be many recorded descriptions of both men by their peers, referenced by Mr. Martin to create their portraits. Mr. Martin will discuss how their lives and words have also inspired his artwork. He will stress the ideals of freedom for all people as seen through the words of Mr. Lincoln and Mr. Douglass within the context of their times and how those ideals still affect and inspire Americans today.

Special note will be given to the significance of Mr. Lincoln's words, reflected against the backdrop of America's response to the terrorist attacks of September 11, 2001. Several speeches will be cited, including excerpts from Lincoln's first and second Inaugural Addresses, the Emancipation Proclamation the Gettysburg Address and Douglass' speeches at Lincoln Memorial dedications.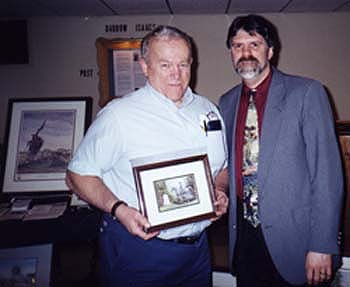 Mr. Martin (right) and Gary Mathers (left) meet at the Wyoming Valley CWRT in Dallas Pennsylvania.

The American Civil War has scarred the collective consciousness of our nation and its people. In his Gettysburg series of drawings and fine art prints, Mr. Martin has tried to touch that consciousness and heal those scars, by bringing a fresh and unique perspective to Civil War art by focusing on the landscapes and monuments of the battlefield.

Like countless other people, Mr. Martin feels drawn by a compelling force to Gettysburg and other Civil War sites. His research and understanding of the horror and sacrifices that took place there, combined with the spiritual and tranquil beauty of the quiet fields, have inspired his Landscapes.

His drawings are a contemporary approach to a romantic theme; contemplative and meditative while paying tribute to the valor and honor of the men who fought and died there over 135 years ago. They are respectful of the heroic deeds but also attempt to reflect the awareness of the tragic, sorrowful and poignant atmosphere that pervades the now silent fields. Mr. Martin has striven to capture this thought-provoking nature of the battlefield as it is viewed today, with images that create a visual, emotional and sentimental connection between the present-day visitor and the historic events and dramatic conflict of the past. It is his ultimate goal to evoke the many human emotions that are felt out on the battlefield and to transcend those emotions with imaginative and creative visions.

It is Mr. Martin's hope that the viewer is instilled with the same sense of awe and inspiration that draws him back, time and time again to the hallowed places where, "…spirits linger, to consecrate ground for the vision-place of souls."


Paul R. Martin III is a professional artist and freelance illustrator. He received his BA in art from Southampton College and his MA in Drawing from Long Island University. He has exhibited his drawings and paintings throughout the New York Metropolitan area for the past 20 years. His original drawings and prints are on permanent display at the Robert E. Lee Civil War Research Center and Library, The Civil War Library and Museum of Philadelphia, Herbert Alumni Hall at West Point, and hundreds of private collections throughout the country. He has received many commissions and just completed a one-man exhibit of his drawings at the Gettysburg Cyclorama Visitors Center Gallery during the summer of 2000.

He has been teaching art in the Pearl River School District since 1985 where he teaches drawing, painting and sculpture. He has lectured regularly throughout the Country at Schools, Round Tables and Historical Societies. His advertisements for his fine art prints appear regularly in all of the major Civil War periodicals, including The Civil War Times, Blue and Gray, Civil War Magazine, America's Civil War, North and South as well as The Civil War News, Crossroads To History and The Battlefield Journal.

Mr. Martin serves on the executive board of the Rockland County Civil War Roundtable as President and Program Director and is a member of The Company Of Military Historians and The Lincoln Forum. He has recently been named an Honorary Trustee of The North Carolina South Mountain Monument Fund. He takes an active role in Civil War preservation as a member of, the Association for the Preservation of Civil War Sites, the Friends of the National Park at Gettysburg, the GBPA, the Civil War Trust, the Brandy Station Foundation, the Longstreet Memorial Fund, the Longstreet Society, the Central Virginia Battlefields Trust and many other preservation groups.

In keeping with his commitment to preservation and memorialization, a portion of the retail sales of all of Mr. Martin's Civil War prints are donated to specific Civil War preservation and memorial funds. 40 publishers' proofs of each are also set aside as charitable donations to various preservation and memorial funds.


To contact Mr. Martin to schedule a presentation for your organization call, write or "click" here.

Thank You.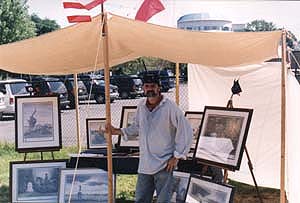 LECTURES and PRESENTATION Resume:

Paul R. Martin III at the R.E. Lee CWRT's Living History Weekend in Woodbridge, NJ, August 1998.

LECTURES and PRESENTATION Resume:

Mr. Martin was featured on the Fox News
Cable Network on Thursday Morning June 26, on
their morning show "Fox and Friends" It aired
at 6:45 AM He was
interviewed and featured for his historical
artwork.

140th GETTYSBURG ANNIVERSARY WEEKEND. Mr. Martin was in Gettysburg July 5 and 6, 2003 at the FOUR WINDS GALLERY on 40 Baltimore Street. Mr Martin premiered his NEW "Stonewall" and "Chamberlain" Portraits as well as several other NEW prints.

Saturday, July 5, from 6PM - 9PM
Sunday, July 6, from 11AM - 3PM

Mr. Martin was the featured artist at the newly restored BEAR MOUNTAIN TOLL HOUSE Visitor Center on Route 6 in Cortlandt NY near Camp Smith. His work was on exhibit and for sale from July 1 through August 31.

One man exhibit: Windham Centre Church, Rte. 23, Windham, NY. July 26 - August 3, 2003.
This exhibit coincided with the 2nd. Annual Civil War Music Heritage Gathering, sponsored by the 77th NY Regimental Balladeers. Call John Quinn for more info: 518-734-5655


New York City Round Table: Wednesday, May 14, 2003.
7th. Regiment Armory: Park Ave. between 66th and 67th Streets. 4th Floor: 5:00 PM Cocktails, 6:00 PM Dinner, 7:15 PM Presentation. Call Conrad for more info:
1-212-534-0149
"'From the Hands of His Creator': Abraham Lincoln and Frederick Douglass,
Their lives and their words as inspiration."

John C. Hart Memorial Library, Shrub Oak, NY
May 28, 2003: 7:30 PM: Lecture and Art presentation. "Creating Historical Art: Process and Result."

IBM Retirees Club, Shrub Oak Methodist Church, Shrub Oak, NY
May 29, 2003: 2:00 PM
"Eternal Vigilance" A lecture and art presentation focusing the American Revolutionary War in Yorktown (Crompond) NY

Current Group Exhibit: "Made in Yorktown: 40 Artits of Quality" Through June 6, 2003.
The Yorktown Museum and the John C. Hart Memorial Library.

One man exhibit: Windham Centre Church, Rte. 23, Windham, NY. July 26 - August 3, 2003.
This exhibit coincides with the 2nd. Annual Civil War Music Heritage Gathering, sponsored by the 77th NY Regimental Balladeers. Call John Quinn for more info: 518-734-5655

HISTORY MEETS THE ARTS in GETTYSBURG

FOUR WINDS GALLERY, 40 Baltimore Street,
Saturday April 12: 6- 9 PM and Sunday April 13: 11-1 PM Mr. Martin will be premiering "Our God Was My Shield" (Stonewall Jackson)
and "In Great Deeds Something Abides" (Joshua Chamberlain.)


Mr. Martin will also be appearing with
S/Sgt. Michael J. Fevola at the
ACES HIGH GALLERY, 433 Baltimore Street
Saturday, April 12: 1-4 PM

Co-signing Mr. Martin's New WWII Print "American Beauty",
Top Turret Gunner, S/Sgt Fevola will have photos and memorabilia on hand to discuss his battle action over the skies of China.

"So Gallantly Streaming"

The USS Shaw and her flag at Pearl Harbor will also be available.

November 14, 2002
Lecture and Art Display "From The Hands of His Creator:
Sons of Union Veterans of the Civil War
Peekskill, NY

November 9, 2002
Lecture and Art Display "Eternal Vigilance"
Daughters of the American Revolution
Hudson, NY

November 4, 2002
Art Display
Yorktown Chamber of Commerce
7-Stars Restaurant, Shrub Oak, NY

October 19, 2002
Lecture and Art Display "Eternal Vigilance"
Sons of the American Revolution
Ossining, NY

October 13, 2002
Lecture and Art Display "Eternal Vigilance"
VFW, Veterans Road, Yorktown Heights, NY

October 3, 2002.
Art Display, Yorktown Historical Society
French Hill Elementary School, Yorktown Heights, NY

September 28, 2002.
Art Display, Peekskill Underground Railroad conference
Peekskill High School, Peekskill, NY 8AM-4PM

August 22, 2002
Lecture and Exhibit
Susquehanna CWRT

August 2, 3, 4, 2002
Civil War Musical Living History: Lecture and Exhibit
Windham, NY
More info to follow.

July 5, 6, 7, 2002
Gettysburg Reenactment Weekend
Gettysburg, PA
Four Winds Gallery: 40 Baltimore Street, Gettysburg: Mr. Martin will be Showcasing "The Wheatfield" print, the bookcover for Jay Jorgensen's NEWLY published book "Gettysburg's Bloody Wheatfield". Mr. Jorgensen will be on hand with Mr. Martin to autograph his book.
Fri. July 5, 5-8 PM, With Author Jay Jorgensen, 6-8PM:
Sat. July 6, 12-6 PM, With author Jay Jorgensen, 4-6 PM:
Sun. July 7, 2-4 PM
We will be featuring several other NEW Prints:
"A Light Caress", "The Wheatfield", "Ascension", and "American Beauty" see What's New

Thursday, June 6, 2002, 7:00 PM: Lecture and Presentation,
"The Price of Liberty is Eternal Vigilance"
The Yorktown Italian-American Club
Yorktown Heights, NY 7:00 PM
Mr. Martin spoke on his NEW print created for the Yorktown Historical Society,
"Eternal Vigilance"

Sunday, May 19, 2002: Lecture and Presentation,
"The Price of Liberty is Eternal Vigilance"
The Yorktown Historical Society
First Presbyterian Church
Route 202
Yorktown Heights, NY Mr. Martin spoke on his NEW print created for the YHS,
"Eternal Vigilance"


April 29, 2002: Lecture and Exhibit "From The Hands of His Creator: Abraham Lincoln and Frederick Douglass: Their lives and words as inspiration.
Sons of Union Veterans Col. Ellis Camp 124
Goshen, NY 7:30 PM

April 22, 2002: Lecture and Exhibit
"From The Hands of His Creator: Abraham Lincoln and Frederick Douglass: Their lives and words as inspiration.
Greater Pittsburgh CWRT
Pittsburgh, PA 7 PM

April 20, 21, 2002
History Meets the Arts
Gettysburg, PA
Four Winds Gallery: 40 Baltimore Street, Gettysburg: Sat. April 20, 6-10 PM
Sun. April 21, 11 AM-5 PM
We will be Premiering several NEW Prints:
"A Light Caress", "The Wheatfield", "Ascension", and "American Beauty" see What's New

February 2, 2002
Lecture and Exhibit
Robert E. Lee CWRT, Woodbridge, NJ

December 14, 2001
Lecture and Exhibit
Westchester CWRT, Pace University

December 2, 2001
Unveiling Lecture and Exhibit:
"The Soul Of Honor"
Meade Society Annual Symposium
Union League Club, Philadelphia, PA

November 1 - November 30, 2001
One Man Exhibit
Wuchinich Community Room, Mount Kisco Public Library

November 17, 18, 2001
Appearance at Four Winds Gallery,
40 Baltimore Street, Gettysburg.

November 13, 2001
Green Mountain CWRT
Vermont

November 12, 2001
Lecture and Exhibit
South Central Connecticut CWRT, Hamden, CT

October 24, 2001
Unveiling and lecture: "Eternal Vigilance"
Yorktown Historical Society
Peter Pratt's Inn, Yorktown, NY

September 29, 30, 2001: R. E. Lee CWRT Living History Weekend:
Exhibit and Sale: Parker Press Park, Woodbridge, NJ

September 1 and 2, 2001: 9AM - 5PM
Exhibit and Sale:
Museum Village Civil War Re-enactment
Museum village, Monroe, NY

August 17,18,19, 2001:
North Carolina South Mountain Monument Fund
South Mountain Symposium
Boonsboro, MD

August 20 through November 30, 2001:
One Man Exhibit
The Class of 1929 Art Gallery
Eisenhower Hall
USMA, West Point, NY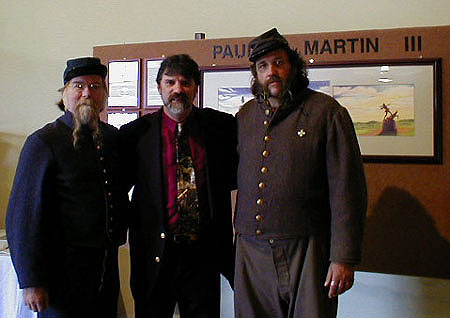 Paul with Jeffrey Martins and Bruce Blevins of Co. C, 2nd Maryland Infantry at the Gettysburg Exhibit.

August 3, 4, and 5, 2001: Exhibit and sale
Manassas Re-enactment: Leesburg, VA
Cowles History Tent



July 7 and 8, 2001
Appearance at Four Winds Gallery,
40 Baltimore Street, Gettysburg.

April 21 and 22, 2001
History Meets the Arts
Gettysburg, PA
Gettysburg Frame and Print Shop: Chambersburg Street,
Four Winds Gallery: 40 Baltimore Street,Gettysburg:

Saturday, April 7, 2001: Lecture and Exhibit, 1:00 PM
Freedom Through Literacy: The lives and Words of Frederick Douglass and Abraham Lincoln.
Mount Vernon Family YMCA
20 South Second Avenue
Mount Vernon, NY, 10550

March 1, 2001: Lecture and Exhibit
North Shore Civil War Round Table
The Book Revue Bookstore, Huntington, NY 7:30 PM

February 23, 2001: Lecture and Exhibit
Ulster County Civil War Round Table

February 10, 2001: Lecture and Exhibit
The Lincoln Society in Peekskill, Annual Dinner
Colonial Terrace, Cortlandt Manor, NY 7:30 PM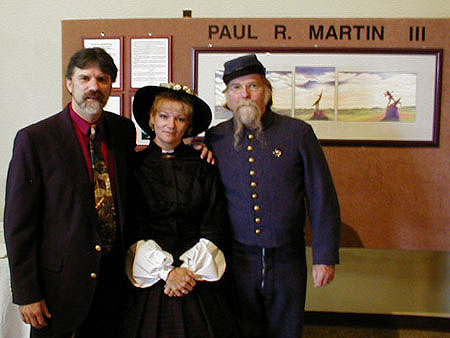 Paul with Jeffrey and Jacki Martins of Co. C, 2nd Maryland Infantry at the Gettysburg Exhibit.

December 18, 2000: Lecture and Exhibit
Sons of Union Veterans Col. Ellis Camp 124
Goshen, NY 7:30 PM

June 6 - November 19, 2000:
One Man Exhibit
Gettysburg Cyclorama Center Gallery
Gettysburg, PA

October 8, 2000: Exhibit and Sale
Garibaldi Guards Civil War Cotillion,Piermont Park, Piermont, NY

September 23, 2000: Exhibit and Sale: Cowles History Tent
Chancellorsville Re-enactment,Fort Picket, VA

September 2 and 3, 2000:Exhibit and Sale:
Museum Village Civil War Re-enactment,Monroe, NY

August 12 and 13, 2000:Exhibit and Sale:
Gomez Mill House, Marlboro, NY

August 5, 2000: R. E. Lee CWRT Living History Weekend:
Exhibit and Sale: Parker Press Park, Woodbridge, NJ

July 22 and 23, 2000: : Exhibit and Sale:
Landis Valley Farm Museum, Lancaster, PA

July 16, 2000: Exhibit and Sale:
Putnam County Civil War Weekend,Carmel, NY

Saturday July 1, 2000: Four Winds Studio and Gallery
Gettysburg, PA

April 14,15,16: 2000 History Meets the Arts, Gettysburg, PA
The Union Drummer Boy and Gettysburg Frame Shop and Gallery,

March 18, 2000,Exhibit and Sale:
The Harrisburg Civil War Expo, Harrisburg, PA

February 17, 2000.Lecture and Exhibit:
The Wyoming Valley Civil War Round Table, Dallas, PA.

February 16, 2000: Lecture and Exhibit:
Barnes and Noble, Wilkes Barre, PA.










| Lincoln Society |

---
| Return Home | Limited Edition Prints | About us: Bio/Exhibits | 9-11 Fund Raiser | What's New | Contact Us | Events Schedule | Friends- Preservation Links | Mini Prints, Notecards, Posters | book covers |